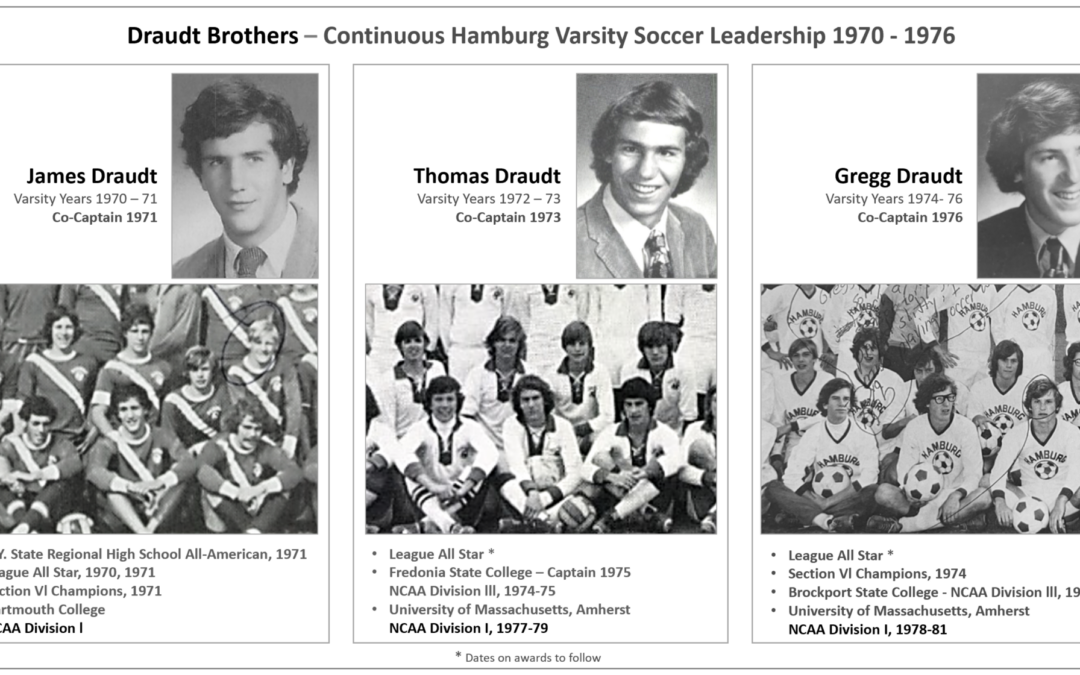 While individually the Draudt Brothers – James, Class of '72, Thomas, Class of '74 and Gregg, Class of '77 were accomplished athletes in their own right, they also represented a family dynasty of academic excellence and athleticism, all three playing at different times for Hamburg soccer teams that won 5 championships in 7 years.
Jim Draudt graduated from Hamburg High School in 1972 with both academic and athletic honors.  He enjoyed many sports growing up – little league baseball, football, skiing/ski racing, basketball, track and tennis.  He began playing soccer as a freshman and later led the HHS Varsity as co-captain, winning the New York State Section VI Class B Championships.  Jim received ECIC soccer honors in 1970 and 1971, and New York State Regional All-American honors in 1971.  Jim also played varsity tennis for Hamburg High in his freshman through junior years. He was recruited to play soccer at Division I programs for Dartmouth College and the U.S. Naval Academy. He enrolled at Dartmouth, graduating in 1976 with distinction, in Geology.  Some of Jim's fondest memories of his days at Hamburg include winning the State Section VI Class B Championship, being awarded the NYS Regional All-American honors and circling the Hamburg High School track with the entire team, interrupting a football game, carrying the Section VI trophy with co-captain Ryan Sullivan.
Jim went on to earn a law degree in environmental and natural resources and practiced law in Portland Oregon for over 40 years.  He married Ann Witsil in 1976 after meeting in college.  They enjoy outdoor activities, and currently divide their time between their home in Portland and a small ranch in Bend Oregon.  They have two daughters, Alida and Claire, both of whom live in the Portland area.
Thomas Draudt served as co-captain of Hamburg's Varsity Soccer Team and was named League All-Star in 1973.  The team clinched the Erie County Interscholastic Conference Division II title that year with a 2-0 victory at West Seneca West on goals by Tom Draudt and Dan Bilka.  Tom went on to play NCAA Division III soccer at Fredonia State College, where he was named Captain in 1975.  Tom later transferred to Division I University of Massachusetts Amherst where he played from 1977-1979.
Tom is an Emmy Award-winning Producer and three-time Emmy Nominated Director with 40 years' experience. He has been a documentary filmmaker and television producer/director, camera owner/operation for This Old House and on the DIY network among others, and lives in Watertown, Massachusetts.
All three brothers played varsity tennis and Jim played basketball.  Tom and Gregg also played club hockey.  The brothers Draudt are the children of Philip Draudt, who was a member and President of the HHS School Board and also a member for over 40 years and twice Chief of the Hamburg Fire Department, and Ruth Draudt, who was a Hamburg Village Trustee.  
Gregg Draudt graduated from Hamburg in 1977 and was the last of Ruth and Phil Draudt's three sons to become a varsity soccer Co-Captain.  His exceptional height of 6'5" made him an imposing force both in the air and on the ground, making it challenging for opponents to get past him.  Following in his brother's footsteps, Gregg received numerous league honors, including being named an ECIC All Star in 1976 and earning a spot on the All-WNY Under 19 Select Team.  His sophomore year he was already playing varsity, on a team that was inducted onto the Wall of Fame in 2022.  Gregg's high school years were not limited to soccer alone, He also played on the varsity tennis and varsity hockey teams.  Some of Gregg's fondest memories at Hamburg include being a part of the '74 Championship Soccer Team, as well as the '74 football team that also achieved Championship status.
Gregg played NCAA Division I soccer at the University of Massachusetts, Amhert (UMass), where he played center and outside defense, as well as midfield.  He remained passionate about the sport, actively participating in various competitive soccer leagues in the greater Boston Massachusetts area into his early 50's.  Gregg earned a Master of Fine Arts from the Rhode Island School of Design and became a successful product designer, with more than 50 patents for his innovative designs and inventions over the years.  He lives in Stow, Massachusetts, with his wife Anne, an architect.  They have two sons, Nathan and James.
"The memories of camaraderie with my teammates, the support from my parents, friends and cheerleaders cheering us on – those feelings are etched in my heart forever," said Draudt.  "The significance of sports, particularly soccer, at Hamburg High School cannot be overstated.  They [sports] played a crucial role in shaping my personal growth and boosting my self-confidence as I transitioned into adulthood.